Our Technologies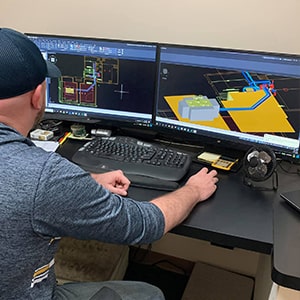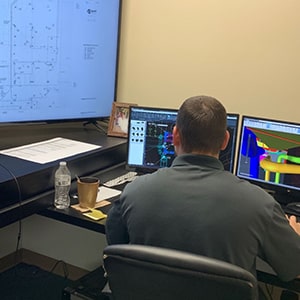 At Mallick Mechanical Contractors, Inc, we use the latest in advanced mechanical technology to deliver the best results at the best value.
Viewpoint V6 – software platform that integrates Accounting and Project Management to provide more dynamic control and management of Projects. Project Management dashboards allows Mallick to manage workflows in a transparent reliable manner that results in a better end product delivered to the Customer.
currently utilizing the latest version of AutoCAD MEP 2015
3D Piping building information modeling "BIM" software that is a 3rd party software that utilizes AutoCAD to run. CadPipe has the capability to draw 3D piping, hangers, valves, and equipment, along with providing a bill of material for spool and prefabrication drawings.
Navisworks Manage –Navisworks allows all 3d modeling software to engage together and run collision clash checks between building structure and all attending trades, and visually show any area of interest.
Quickpen – Quickpen allows on-screen takeoff and the most recent pricing from major manufacturers across the Piping and Plumbing industry. QP allows Mallicks Estimators to consistently takeoff and review project estimates based on the specifications of each job. With the ability to customize and filter in a variety of ways Quickpen is an important addition when it comes to the planning and execution of work as well.
M-Job Time – M-Job Time is a time capture software that allows Mallick's Field Personnel to capture real time performance on the job accurately. M-Job allows Mallick's Office Personnel to see real time performance across the job and helps drive decisions on required manpower and areas of focus helping to keep projects on time and under budget
BlueBeam – Bluebeam is a dynamic software that allows the viewing, editing, and sharing of PDF files. Bluebeam allows a more stringent control of documents from the estimating phase through construction.
The Box – Cloud software is used for uploading and sharing project documents – drawings, submittals, RFI's, etc. – with subcontractor and field personnel. All Mallick Foreman are equipped with a Laptop or Tablet with which they can access project documents in real time, bypassing the historical waiting time between documents being received, printed, and sent to the field.
Mallick's on-site management of each project is provided with Laptops or Tablets so that communication and documents can easily be shared between the Office and the Field. This allows real time access to update submittals, drawings, and correspondence to ensure that the Project is constructed within the parameters of the documents.