MECHANICAL TRADE PARTNER OF CHOICE
Since 1994 Mallick Mechanical Contractors, Inc. has served as a Washington DC Metropolitan area leader in the mechanical and plumbing industry. Based in Gaithersburg, MD, Mallick services both emerging and established businesses throughout the Washington metropolitan area. Mallick Mechanical has the necessary resources and experience to complete your project from start to finish, with only the highest level of detail and professionalism. Mallick Mechanical Contractors is committed to building solutions and relationships that last a lifetime. Our vision is to be the premier commercial mechanical and plumbing contractor for high-performance clients.
— Serving Maryland, Virginia and the District of Columbia —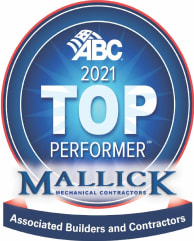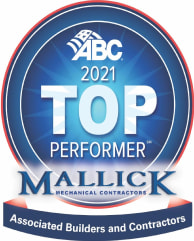 In 2021, Mallick Mechanical Contractors became certified as an Accredited Quality Contractor from ABC.
Mallick Mechanical demonstrated commitment in Quality, Safety, Talent Management, Craft and Management Education and Community Relations to receive the honor.
That same year, Mallick Mechanical was ranked the 51st Trade Contractor and 14th Plumbing/HVAC Contractor in the nation on ABC's 2021 Top Performers List and was voted by general contractors and others as
ABC Metro Washington's 2021 Mechanical Subcontractor of the Year!